Trapani- Already a prehistoric settlement, Trapani was a Phoenician port of call in the 8th century and later a Carthaginian stronghold. She later became a Roman city whose survival depended on trade and ship building. In 830 A.D. it was conquered by the Arabs who made it one of the richest cities in Sicily. It's Arab influence is still visible today in local traditions and customs. In 1077, the Normans made it a royal city and in the centuries following she was an important trade center. Trapani became the provincial capitol in 1817. She was extensively bombed in WWII and a lot of the city had to be rebuilt.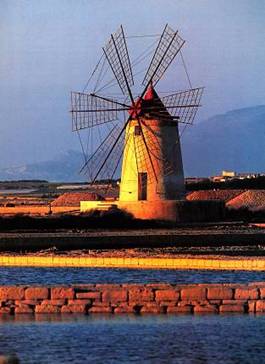 Erice - Inhabited since Paleolithic and Neolithic times and subsequently conquered and rebuilt by centuries of invaders, Erice or ERYX, flourished under Norman domination. Impressive walls built during Phoenician times surround the lovely medieval hamlet. The Norman castle dominates the hilltop. Erice is to be enjoyed for its history, beauty and impressive panoramic views.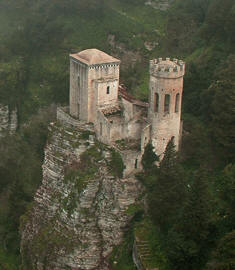 Custonaci - A small town known for its wonderful Christmas pageant. The locals populate the caves of the stone quarry in period costume and recreate a living Christmas crèche for the Christmas season. The sanctuary of the Madonna of Custonaci is also here.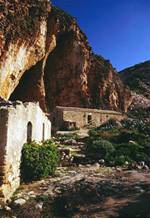 Castellammare - Chief port of the Elymian cities of Segesta and Erice, it later became an important arab fortress. The trapezoidal castle, which juts out to the sea, was later expanded by the Normans and Swabians before its destruction and reconstruction in 14th century by the Arogonese. It was also an important tuna fishery and granary.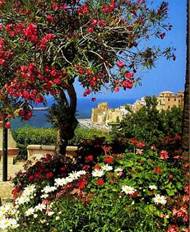 Segesta - One of the most prosperous Elymian cities, founded by refugees from Troy and Phoenicia in the fifth century B.C.. The city was in constant conflict and was eventually destroyed by Vandals in the Middle Ages. Fortunately, the marvelous Doric peristyle was not destroyed and still stands majestically on a hill overlooking the valley. There is also a nice Greek theater and the ruins of the ancient city, still being unearthed.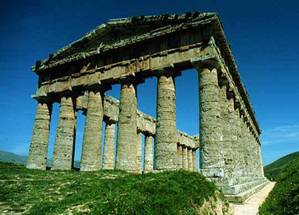 Marsala - Marsala is the home to the Florio Winery. The Florio Winery was founded in 1832 by the prominent Florio family. Well known throughout the world for it's Marsala wine.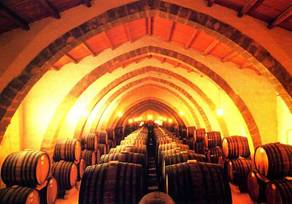 Selinunte - Founded around 650 B.C. by the Greeks, Selinunte was in constant conflict with nearby Segesta. Selinunte became rich and powerful by the 6th century B.C. and because of her relationship with Carthage, she remained neutral during the battle of Himera in 480 B.C.. After forming an alliance with Syracuse during the Peloponnese war, she was destroyed by the Carthaginians in 409 B.C..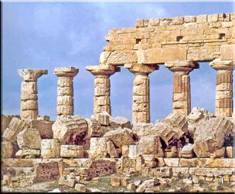 Back